What is a Brand?
A brand is a promise we make to the world – it's the story we tell about who we are and what we do. We make this promise with every communication that we put out, whether it's an email, a press release, a web page or a video. More importantly, each communication is part of a larger whole. What we convey as independent schools, departments, organizations and entities shapes the perception of UCI in general. We each must honor this responsibility.
The goal of these brand guideline is to help all of us who communicate about the university make the same promise, tell the same story and speak with the same voice. In this way, we can create a consistent narrative no matter how people hear from us.
Illuminating the Differences that Make a Difference.
Illuminating
Making brighter
Advancing to a higher intellectual level
Highlighting, promote or exalting discoveries
Differences
New ways of thinking
Imagination & creativity
Confident in pioneering
Breaking through traditional boundaries
Open to new ideas; not copying our way to the top
Make a Difference
Contribute
Impact public
Provide innovative ideas that improve society
(The core idea is NOT a tag-line. A tag-line is an external, communicative line that powerfully expresses the value proposition inherent in the core idea.)

Positioning Statement
At UCI, we believe in embracing the differences that make a difference. From the beginning, we have understood the power of independent thought, from which true brilliance shines. We foster new modes of inquiry that break traditional boundaries. We nurture new ways of thinking. And we achieve results that are expansive, exponential and paradigm-changing.
Whether it's a life-saving discovery, life-enhancing creation or compassionate care, each of our accomplishments starts with unique contributions of intellect, imagination and creativity from those with the resolve and courage to pursue a new idea. Through UCI, it is made real.
Here we believe that the creation of difference-makers comes from a university that goes beyond classroom academics to improve lives. We provide access to real-world expertise and hands-on learning to produce real-world impact. Located in the heart of Orange County, UCI is a vibrant center of intellectual and creative activity, deeply connected to and influenced by its community.
Known for our excellence in academics and research, UCI currently ranks amongst among the top 10 public universities. From the 16 fully accredited schools and programs to the winning Anteater athletic teams, the brightest and most passionate are making their distinctive mark through UCI.
We enthusiastically embrace the bold, the one-of-a-kind, the independent mind. Those who see things differently. Who know differently. Who do differently. Those with the ability to shine brighter.
Our brand pillars are those inherent capabilities that distinguish us. They are the truths about our brand. Importantly, they illuminate how UCI stands above and apart from others.
Pioneering spirit
Trailblazers who boldly create new fields of inquiry, enterprise or knowledge
Learning for real-world impact
Driven to positively affect the lives of people
Fiercely dedicated
Courageous, compassionate, optimistic and resolute in pursuit of discovery
Embracing innovative thinkers
Infinitely curious, distinctive in thought and welcoming of the unique, the unpredictable
Who is UCI?
This is the broadest description of your core audiences. It clarifies the types of individuals you champion – those who are a part of, and contribute to, the university.
Fiercely dedicated individuals driven to make a difference in the world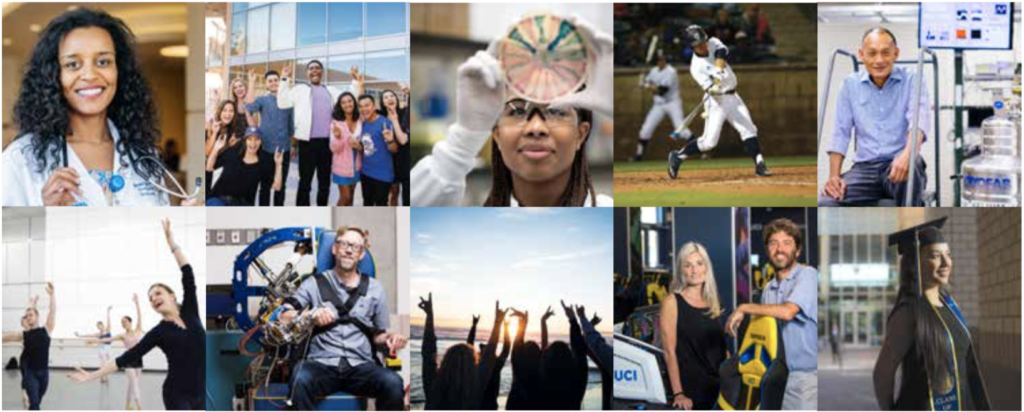 These define the character of our brand. The following attributes guide the brand's look, feel and voice. They must support the positioning, readily apply to creative execution, contribute to a distinct impression and aptly describe the organization.
Pioneering
The first or among the earliest in any field of inquiry, enterprise or endeavor
Inclusive
Welcoming and respecting each other's differences
Audacious
Courageous, daring, fearless; optimistic, resolute
Infinitely Curious
Distinctive in thought, unique in approach to discovery
Engaged
Embracing our community, locally and worldwide; committed to serving the public good
Compassionate
Feeling or showing empathy and concern for others